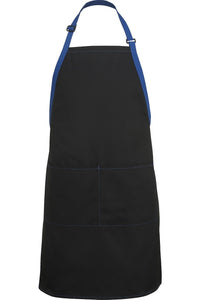 Free Shipping on $199+ Orders.

Same Day Shipping if ordered by 1pm EST.

30-Day Easy Returns if you need to return anything.
Order Delay Notice:
Edwards has advised us that they are currently experiencing shipping delays.
It may take an additional 2 weeks before this style is shipped.
Please keep this in mind when placing your order.
This Black with Royal Blue Bib Color Block Adjustable Apron (2 Pockets) features an ultra-durable 7 oz. cotton twill fabric. The perfect balance between 65% polyester and 35% cotton ensures this waist apron is durable enough to handle a long working day while maintaining a desired level of softness and comfort.

The adjustable neck along with side adjustment ties to tie the apron around the back makes this apron entirely adjustable to the individuals preference and comfort. This apron also has long ties that add a pop of color on either side of the waist so that you are able to tie the apron around your waist to your preferred tightness and comfort. With 2 pockets, this apron is a great selection for those in need of quick access to your notebook, writing instruments or any other needed supplies while working.


Style: Bib
Adjustable Neck: Yes
Colors: Black w/ Royal Blue
Material: Poly/Cotton Blend
Pattern: Solid
Dimensions: 34"L x 24"W
Pockets: 2
Brand: Edwards
Extras: Slide adjustment feature for desired comfort, side ties for back or front closure and individual comfort, bar tracked stressed points
Care: Machine-washable
Origin: Imported