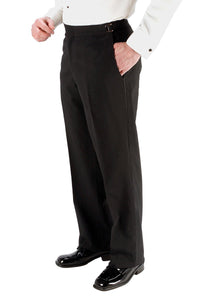 Free Shipping on $199+ Orders.

Same Day Shipping if ordered by 1pm EST.

30-Day Easy Returns if you need to return anything.
Every man should own a high quality and classic tuxedo pant. Lucky for you, the Christopher's are that pant! Made from a luxurious viscose blend (Super 150's to be exact), the Christopher tuxedo pants are not only comfortable, but timeless. These plain front, solid pants have the classic tuxedo satin stripe going down the side of the leg; and are available in both modern and slim fit sizes making them a great option for any modern man.


Color: Black
Style: Plain Front
Material: Luxury Viscose Blend (Super 150's)
Pattern: Solid
Formal Stripe: 1/8" Satin Stripe
Designer: Cardi
Fit & Sizes: Modern Fit (28 - 70) & Slim Fit (34 - 44)
•ÈÀCondition:åÊBrand new with original tags & packaging. Pants come unhemmed at the bottom so you can hem to your preferred length.


STYLING TIP: The "Christopher" pants are designed to match with Cardi tuxedo jackets. However, these pants also coordinate well with a variety of dinner jackets.