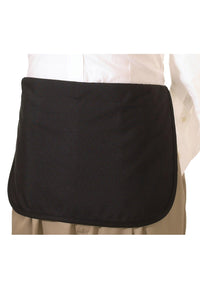 Free Shipping on $199+ Orders.

Same Day Shipping if ordered by 1pm EST.

30-Day Easy Returns if you need to return anything.
Order Delay Notice:
Edwards has advised us that they are currently experiencing shipping delays.
It may take an additional 2 weeks before this style is shipped.
Please keep this in mind when placing your order.
This Black Dealer Apron (No Pockets) features an ultra-durable 8.5 oz. 100% polyester material. The polyester material makes this apron durable enough to handle a long working day while maintaining a desired level of softness and comfort.

This apron has an adjustable elastic waist, as well as a a side release buckle so that you can secure the apron around your waist to your preferred tightness and comfort.


Style: Waist
Adjustable Neck: N/A
Colors: Black
Material: Poly/Cotton Blend
Pattern: Solid
Dimensions: 11"L x 21"W
Pockets: No
Brand: Edwards
Extras: Adjustable elastic waist, side release buckle
Care: Machine-washable or Industrial Launder
Origin: Imported