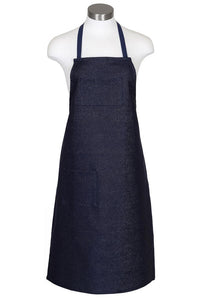 Free Shipping on $199+ Orders.

Same Day Shipping if ordered by 1pm EST.

30-Day Easy Returns if you need to return anything.
This Indigo Denim Bib Apron (2 Pockets) is made from a heavy duty 10.5 oz. denim; making this apron is durable enough to handle a long work day, while maintaining a professional and stylish appearance.

Often times, the attention is in the details. The dark color of this denim arpon helps to mask dirt and stains while the 2 pockets add a convenience for quick access to your order pads, writing instruments or other needed supplies.


Style: Bib
Adjustable Neck: No
Colors: Indigo
Material: Denim
Pattern: Solid
Dimensions: 36"L X 24"W
Pockets: 2
Brand: Fame
Extras: Nylon ties for adjustments, pencil and patch pockets
Care: Machine-washable
Origin: Imported