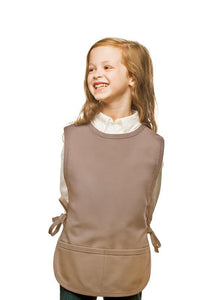 Free Shipping on $199+ Orders.

Same Day Shipping if ordered by 1pm EST.

30-Day Easy Returns if you need to return anything.
The Khaki Kid's Cobbler Apron (2 Pockets) features an ultra-durable 7.5 oz. performance twill fabric. The perfect balance between 65% polyester and 35% cotton ensures this apron is durable enough to take daily abuse at work while maintaining a desired level of softness and comfort. The precision cut patterns and reinforced stress points are meticulously sewn by our proud team in our USA factory.

Often times, the attention is in the details. A special-treated soil release finish helps the garment release any stains through normal use. Color steadfast properties will prevent the fabric from quickly losing its vibrant color. Let's not overlook even the smallest details such as enhanced "finished" tie ends opposed to "heat-fused" tie ends that many inferior apron manufacturers use. The 5" deep pockets (7 inches wide) also provide the added convenience for quick access to your checkbooks, writing instruments or other needed supplies.
Style: Cobbler
Colors: Khaki
Material: Poly/Cotton Blend
Pattern: Solid
Dimensions: 20"L x 14"W
Pockets: 2
Brand: Cardi / DayStar
Extras: Soil release & wrinkle resistant finish, color steadfast, ultra-durable 7.5 oz. performance twill premium fabric, reinforced stress points, extra long finished ties
Care: Machine-washable
Origin: Made in USA