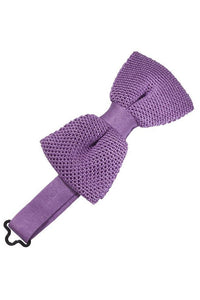 Free Shipping on $199+ Orders.

Same Day Shipping if ordered by 1pm EST.

30-Day Easy Returns if you need to return anything.
Looking to try something different? Than the Silk Knit Collection might be for you! Available in a variety of colors, the Silk Knit Collection not only adds some texture to any suited outfit but, also offers a uniquely subtle and charming touch.



Color: Wisteria
Pattern: Knitted
Material: Silk
Style: Pre-Tied
Shape: 2.5" Butterfly
Sizing: Adjustable band for easy sizing. Pre-tied bow ties are adjustable from 14" to 23"
Condition: Brand new with original tags & packaging