Casino Aprons
When we think of casinos, it's natural to think that they are pretty much all fun and games. However, when working in one you might see a different side to a casino that others might not even realize. There's so many moving parts, departments and staff members. A smooth running casino environment is tidy, fun, colorful, happy and of course, professional.
At UniformsInStock, some of our most popular apron collections that you can choose from include bib aprons, bistro aprons, casino aprons and waist aprons. They make for a great style addition to your working environment and can be a great way to add a theme that fits in with your business. You can even choose a from various styles, some of which are very popular today.
Our casino aprons are available in a variety of different colors, including pink, green, blue, black, ad more. They are also available in different patterns, like solid, striped, and more. You can choose from various sizes, allowing for the perfect fit. Waist aprons, like the black dealer apron (no pockets) are often a common apron among casino staff uniforms.
Dealer aprons are typically a dark color, [black] and frequently do not include pockets. This is mainly for staff that are working at the card tables. Wearing a apron, such as a dealer apron, is a wonderful choice because it's a great way to have your staff members look professional and uniform. 
Another popular option for those looking to enhance or complete their staffs casino uniforms are waist aprons or bib aprons. Waist and bib aprons are perfect for the servers working in the casino. Because they are constantly walking around, serving drinks, taking orders, etc. Waist aprons are great because they simply tie around the waist and offer a variety of different pockets to place writing utensils, order pads, straws, etc. in said pockets. Bib aprons are another great option for casino staff members, not only for the convenience of the pockets, but for the protection of clothing too. 
Since our casino aprons comes in a variety of different colors, patterns and styles, using specific colors and styles to assign to specific team members really helps to not only keep a unified look, but to easily spot out specific team members throughout a busy casino. For instance, those working the card tables could be wearing a black dealer apron, while servers might be wearing a pinstripe scoop neck bib apron. 
Something else to consider when purchasing your casino aprons is ordering in bulk. At UniformsInStock we offer the ability to purchase large quantities of your uniform items at a time. This not only assures you are prepared should someone be in need of a new apron, but it has some great benefits too. One being that the larger the quantity of items ordered, the larger the discount! This is a great incentive for large corporations or establishments, much like a casino because they have so many staff members working at once. Being able to purchase everything you need in a larger quantity ultimately in the long run saves you both time and money - and who doesn't want that?
Buy Aprons Online
When you're looking to buy your uniform aprons online, there are endless amounts of options to choose from. When deciding what style of apron works best for your needs, consider the practicality of the apron you are looking at. For example, those working in a kitchen would probably not prefer a dealer or server apron as opposed to a professional chef apron. Understanding what type of apron will suit your needs and staff's needs best is a great start in ultimate uniform success.
UniformsInStock is a leading uniform store, and we have a great selection of casino aprons in a variety of styles. From bright red bib aprons, to pink waist aprons– we have you covered. We have a wide range of uniform industry collections to choose from, assuring that there is something relative for just about everyone!
You can browse our casino apron collection and filter your results by color, style, brand, material, price, and more. This gives you plenty of options to choose from, and is a quick and efficient way to find exactly what you are looking for.
We offer you the ability to have your uniforms customized with embroidery or screen printing. This is great if you are looking for a way to have your uniforms stand out. Customizing your casino aprons, or any other uniform pieces with your company logo or slogan is a great way to set your business apart from others while making a lasting impression.
For more information about our selection of aprons, please don't hesitate to get in touch.
Black Dealer Apron (No Pockets)
Black Dealer Apron (No Pockets)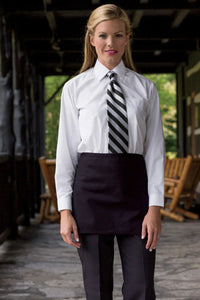 Black Dealer Apron (No Pockets)